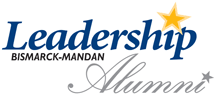 Home » About LBMAA » Meetings »
Meetings
Leadership Bismarck-Mandan Alumni Association (LBMAA)
Board Of Directors Meeting
Minutes
03/17/2015, 11:45
Blarney Stone
Attendees:
Susie Kocourek, Michelle Walker, Kristen Wilson, Brad Krogstad, Gabe Schell, Paula Redmann, Melissa Hammond
Secretary's Report (Minutes from the Feb. meeting; taken by Jennifer) was approved (motion Melissa, seconded by Paula)

Treasurer's Report: No report this month. Report will be provided in April.

Committee Reports:
Membership Report
Susie said we are at 90 members.
Social Events/Training & Development
The legislative panel presentation in February was very good with approximately 25 members in attendance. The board feels a follow up to the legislative session would be a good program to offer members. We'll keep this on the "watch" list for an April or May event.
Other program/social event discussion:
Progressive Dinner: Melissa feels this would be a good fall social event, and LBMAA should stick with the riverboat ride as our spring event/fundraiser. She is working with the riverboat folks on possible dates and details and will share those options with the board.
Community gardens and orchards topic: Paula will check with Peggy Netzer from NDSU Extension on a possible April professional development session. We could meet in the Sertoma Club Community Building.
We will follow up with Nancy Guy on a session/panel discussion on current community issues in Bismarck/Mandan, including the results of the housing assessment.
A possible June session would be a tour of the new Hillside Pool in Lions Park. To be continued.
Communications & Public Relations
The next newsletter is slated for May. Possible topics could include the Distinguished Alumni award and spring events.
New Business:
Gabe will check on prices and possibilities for the National Leadership Conference. Leadership Field Project presentations are May 14 from 8:30-Noon and Leadership graduation is May 20.
The next meeting is scheduled for April 14th at Dunn Bros.