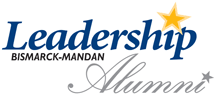 Our Vision is to "improve the community through our collective leadership efforts."
The Leadership Bismarck-Mandan Alumni Association (LBMAA) is made up of graduates from the Bismarck Mandan Chamber EDC's Leadership Program. This program has been in existence since 1990 with the goal to improve our communities through our collective leadership efforts.
LBMAA expands on the Leadership Program by offering continued training, volunteer, and networking opportunities to its members. We are active in Chamber EDC activities, serve on the boards and committees of many nonprofit organizations, and volunteer in numerous roles. Our mission is to renew the commitment to our community by keeping members involved with each other, and through that involvement, keeping the leadership spirit alive.
We encourage you to consider participating in the Chamber EDC's Leadership Program. You'll expand your knowledge of issues important to the Bismarck and Mandan communities and help bring about positive change to the area in which we live.
Membership Dues
If you wish to pay your membership dues online, please click here (you will be redirected to the Chamber EDC's Website for payment) or print out a statement and send the payment via mail.
Apply to Leadership Bismarck-Mandan
Complete the Leadership Bismarck-Mandan application online or call the Chamber EDC at 223-5660. Deadline for applications is typically the beginning of August.
Leadership Bismarck-Mandan engages emerging leaders in business and community issues