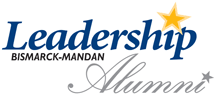 Home » About LBMAA » Meetings »
Meetings
Leadership Bismarck-Mandan Alumni Association (LBMAA)
Board Of Directors Meeting
Minutes
12/09/2014, 11:45
The Pond
Attending: Gabe Schell, Melissa Hammond, Michelle Walker, Brad Krogstad, Paula Redmann
Secretary's Report was approved by Melissa and seconded by Paula. Minutes approved.
Treasurer's Report was approved by Gabe, contingent upon clarification on one expense item. Michelle is still seeking clarification on this. Approval of the report was seconded by Paula.
Committee Reports:
Membership:
Michelle reported a paid membership of 86 members. This is up from 55 members in October.
Upcoming Events:
Jennifer reported via email that she will continue to explore a Legislative Preview Panel with local legislators.
Melissa will reach out to organizers of The Banquet to see if there is a group that would like to partner on this.
Melissa said a wine tasting or some kind of social/fundraising event at the Heritage Center may not work out due to cost. She is working with other alumni Jesse Sailor and Robin Thorstenson to explore other options for a progressive dinner in the downtown area in February or March. This would be a social/fundraising event.
Communications:
Gabe will visit with Wes Engbrecht about sections of the LBMAA website that needs updating. Melissa suggested putting class photos on the Facebook page.
Old Business
The LBMAA Board Retreat / Strategic Focus session will be held Thursday, Dec. 11 from 3-5 pm. Gabe will send out some feedback/discussion forms this week to get folks thinking about the session and to seek feedback from those unable to attend.
New Business
None
Next Meeting
Tuesday, January 13th at Dunn Bros.