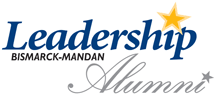 Home » About LBMAA » Meetings »
Meetings
Leadership Bismarck-Mandan Alumni Association (LBMAA)
Board Of Directors Meeting
Minutes
11/18/2014, 11.45 am
Reza's Pitch
Attending: Gabe Schell, Melissa Hammond, Michelle Walker, Kristin Wilson, Susie Kocourek, Jennifer Jackson.
Secretary's Report was approved by Melissa and seconded by Jennifer. Minutes approved.
Treasurer's Repot was approved by Gabe, contingent upon clarification on three items by Susie, and seconded by Melissa.
Committee Reports:
Membership – Susie will send out an e-mail reminder to encourage sign-up. Kristen will review list and make a plan for increasing membership.
Past Events – Liberty Elementary Tour was successful.
Upcoming Events:
Jennifer will explore Legislative Preview Panel with local legislators.
Melissa will reach out to Nancy Guy to see if LBMAA could partner with City Commissioners to serve at the homeless banquet.
Melissa will report back on a possible event at the Heritage Center.
Communications:
Gabe will look into updating the website.
Newsletter article will build upon Chamber Connection article on the Universal Park.
Member Profile will be a newer member; Michelle's Class.
Fundraising
Melissa is planning a downtown progressive dinner with Jesse Sailor and Robin Thorstenson, to be held early 2015.
Old Business
Board Retreat / Strategic Focus will be scheduled for mid-December, possibly at Open Road Honda. No coordinated dates were provided in November.
New Business
n/a
Next Meeting
Tuesday, December 9th – 11:45am at The Pond.