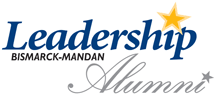 Home » About LBMAA » Meetings »
Meetings
Leadership Bismarck-Mandan Alumni Association (LBMAA)
Board Of Directors Meeting
Minutes
09/08/2014, 11:45
McKenzie River Pizza Company
Attending: Tim Pfaff, Melissa Artlip, Paula Redmann, Gabe Schell, Brad Krogstad, Michelle Walker, Susie Kocourek.
Secretary's Report
Gabe moved to approve the minutes; Tim seconded. Minutes approved.
Treasurer's Report
Tim shared financials from the 2013 year end, showing $13,573.26 in the account. The balance in the account as of August, 2014 is $12,800.18. Tim says we can present the 2013 year end and the 2014 to date numbers at the annual meeting. Tim also noted that LBMAA will provide a scholarship to a Class of 2015 member and that expense is not shown at this time.
Brad moved to approve the Treasurer's report; Paula seconded. Report approved. There was some discussion on membership. Susie said the dues statements will go out this week. Tim will do some analysis of membership and report on former members who have not renewed. The board feels current members reaching out to former members is a good recruitment as well as fundraising strategy.
Committee Reports
Membership
There are 34 paid members so far. Susie will send out another reminder. There was discussion on digging into the "inactive" list and personally contacting people who have not renewed in 2014. Tim will send out that list to the board members. The board will discuss a strategy at a future meeting.
Social Events/Training & Development
Upcoming meetings/professional development opportunities include: September 16 – Annual Meeting and election of officers; October 14 - Tour of the ND Penitentiary; November 14– Tour of new Liberty Elementary School; December 9th – Chamber Holiday Mixer. These dates are nailed down in order to promote them at the Annual Meeting and in the next newsletter.
Communications & Public Relations
No report at this time. We know Jenn is working on the LBMAA newsletter, which will be emailed to current members.
Fundraising
No report at this time.
New Business
Welcome Michelle Walker, new board member, and Class of 2014 graduate.
Melissa offered to head up a LBMAA Facebook page. She will contact board members to seek input on who has administrative access.
Next meeting: The annual meeting.
Paula moved to adjourn; Gabe seconded. The motion passed.