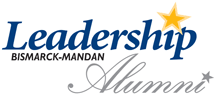 Home » About LBMAA » Meetings »
Meetings
Leadership Bismarck-Mandan Alumni Association (LBMAA)
Annual Meeting
Minutes
09/16/2014, 4:30 pm
Bismarck Mandan Chamber of Commerce
LBMAA President Melissa Artlip called the meeting to order.
Secretary's Report
Kevin Dvorak moved to approve the minutes of the 2013 annual meeting; David Leingang seconded. The motion passed.
Treasurer's Report
Tim shared financials from the 2013 year end, showing $13,573.26 in the account. The balance in the account as of August, 2014 is $12,800.18. Tim says the latest numbers do not represent the latest membership dues that have come in.
Melissa Hammond moved to approve the treasurer's report; Jenn Jackson seconded. Motion passed.
President's Report
Melissa Artlip shared highlights of the 2013-14 LBMAA year, which included professional development sessions on North Dakota's emergency communications, the city of Bismarck's Growth Management Plan and a panel discussion from elected officials on our most critical community issues. LBMAA also had its first ever Lewis and Clark Riverboat fundraiser, and will be launching an alumni e-newsletter and Facebook page.
President Melissa then recognized outgoing board member and LBMAA Treasurer Tim Pfaff and handed the meeting over to incoming President Gabe Schell.
Election of Board Member
President Gabe and Secretary Paula Redmann then conducted the election of a new board member. The two nominees for the board were Deidre Olmsted Hillman and Kristin Wilson. Each nominee introduced themselves. Hand written ballots were collected. Kristin Wilson was elected to the LBMAA Board of Directors.
President's Report
President Gabe gave an overview of the upcoming LBMAA year and asked for member input. Those in attendance then introduced themselves.
Robin Thorstensen moved to adjourn; Brad Krogstad seconded the motion. The motion passed.