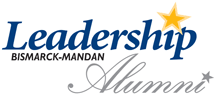 Home » About LBMAA » Meetings »
Meetings
Leadership Bismarck-Mandan Alumni Association (LBMAA)
Board Of Directors Meeting
Minutes
08/12/2014, 11:45
McKenzie River Pizza Company
Attending: Tim Pfaff, Melissa Hammond, Melissa Artlip, Paula Redmann, Gabe Schell, Chad Bjornson, Jennifer Jackson, Susie Kocourek.
Secretary's Report
Melissa Hammond moved to approve the minutes; Gabe seconded. Minutes approved
Treasurer's Report
There was no treasurer's report at the meeting. Tim will compile the financials based on numbers provided by the Chamber and get that info out to the board.
There was some discussion on membership. Susie said the dues statements will go out this week. Tim will do some analysis of membership and report on former members who have not renewed. The board feels current members reaching out to former members is a good recruitment strategy.
Committee Reports
Social Events/Training & Development
September 16 – Annual Meeting and election of officers. October – Possible tour of the new penitentiary. Melissa Hammond will follow up. November – Tour of new Liberty Elementary School. Paula will follow up. We'd like to have the October and November dates nailed down in order to promote them at the Annual Meeting and in the next newsletter.
There was discussion on the annual meeting agenda and meeting details. Susie and Melissa Artlip will order food and work on the agenda with incoming President Gabe. The board will meet on September 8 to finalize the September 16 annual meeting details, including election of board members.
Communications & Public Relations – Jennifer
Jenn will compile the next newsletter, scheduled to go out September 1. Info will include the alumni focus, reminder of membership dues, schedule of upcoming events and the annual meeting. Jenn would also like to see a section on leadership development. She will ask alumni to contribute what they're reading, watching, learning, and ask folks to share.
Old Business
There was discussion on creating a LBMAA Strategic Plan. Should the board do that now or wait for the new board to discuss? It was determined the new board and officers would do this, with input from members at the annual meeting.
The board decided not to have a silent auction fundraiser at the annual Chamber Holiday Mixer, but to continue with other fundraising options, including a possible fall event and a 2015 riverboat cruise.
New Business
The board discussed providing a scholarship for one LBM participant for 2014-15. Applications are being reviewed now. There are two applicants that have asked for a scholarship. Gate City Bank provides one scholarship. Gabe moved that LBMAA provide a second scholarship only if the two applicants are approved. Jenn seconded, motion carried.
The board will meet on Monday, September 8 at 11:45 am at McKenzie River Pizza Company.