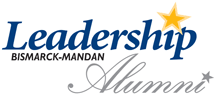 Home » About LBMAA » Meetings »
Meetings
Leadership Bismarck-Mandan Alumni Association (LBMAA)
Board Of Directors Meeting
Minutes
06/24/2014, 11.45
Broadway Grill
Leadership Bismarck-Mandan Alumni Association (LBMAA)
Board Of Directors Meeting Minutes
6/24/2014
Attending: Tim Pfaff, Melissa Hammond, Paula Redmann, Brad Krogstad, Gabe Schell, Susie Kocourek. Vice President Gabe filled in for President Melissa Artlip.
Secretary's Report
Brad Krogstad moved to approve the minutes; Melissa Hammond seconded. Minutes approved
Treasurer's Report
There was no treasurer's report at the meeting. Tim will email a report once it is compiled. Tim reported that there are 84 paid LBMAA members, compared to 89 last year.
Committee Reports
Social Events/Training & Development
September 16 – Annual Meeting and election of officers. There was a question of when to ask a current graduate to attend and what the term is. Susie will email members the list of openings and terms.
The Riverboat social held May 23 was very nice. There was discussion on holding it on a Thursday versus a Friday in 2015. LBMAA made about $650, compared to the $1100 that is generated from the Holiday Social Silent Auction. Melissa and Robin Thorstensen plan to meet and discuss a possible fall fundraiser. The group feels whether there is/isn't a fundraiser shouldn't stop our association from having further speakers and having members pay or partially pay for the program.
Communications & Public Relations – Jennifer
Jenn was unable to attend. She sent a request to board members via email earlier in the day asking for newsletter content ideas. Paula will get back to her with the group's suggestions.
Old Business
Strategic Focus for 2014-15: Susie will talk with Kelvin about this.
Melissa moved that there be no July meeting and that the group meet again on August 5th. Paula seconded. Motion passed.
New Business
Fall event ideas include a tour of the new penitentiary, tour of the new elementary school, a morning (or lunch) chat with the mayors of Bismarck and Mandan and a showcase of new businesses with perhaps a tie-in to the new downtown businesses.
Next Meeting – 11:45 a.m., Tuesday, August 5 at 11:45 at Mandan Diner (former Mandan Drug).