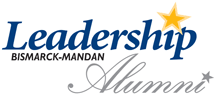 Home » About LBMAA » Meetings »
Meetings
Leadership Bismarck-Mandan Alumni Association (LBMAA)
Board Of Directors Meeting
Minutes
05/06/2014, 11:45 a.m.
Broadway Bar and Grill
Secretary's Report
Gabe Schell motioned to approve the minutes, Tim Plaff seconded. Minutes approved
Treasurer's Report
There was no treasurer's report at the meeting. Tim will email a report once it is compiled.
Committee Reports –
Membership – No Update
Social Events/Training & Development
Upcoming events:
May 21 Graduation: We should encourage our classmates to go. Drew Wrigley, Marilyn Johnson, Kevin Dvorak will be speaking.
June 9 – Golf
September – Annual Meeting
December: Holiday Mixer
Communications & Public Relations – Jennifer
Jennifer sent an email update prior to the meeting.
Silent Auction/Fundraising – Melissa
Riverboat Event Update: May 30 3-5 PM. Tickets were handed out to the board members to sell. Can also direct people to Susie and she'll mail out a ticket.
New Business:
25th Anniversary shirts for sale? Discussion was held regarding feasibility of ordering and selling LBM 25th Anniversary shirts. It was decided that the shirts would not be pursued due to short timeframe to have the shirts by graduation and that the 25th year is about to end.
Regional vs national leadership conference: Discussion was held regarding the pros/cons of attending the leadership conferences. It was decided to skip the regional conference and attend the national one. The regional conference itinerary did not appear to be compelling enough to send a board member for 1.5 days. The national conference is on a two-year cycle so we should plan on attending that in the future.
Strategic planning for 2014/2015 "build a leader": Discussion was held regarding the direction of the LBMAA and the strategic objectives the Chamber is pursuing. The current LBMAA's function is to increase networking opportunities and community knowledge for graduates of the LBM program. The LBMAA can contribute to chamber goals but we'd want to know how we would fit in. Is the LBMAA's goal to be more than an alumni association and to take on additional responsibilities? It could be but we'd want to know what the Chamber's goal is. Brad discussed the "tiers of involvement" where a person first goes through LBM, then the next level could be additional chamber sponsored groups but we'd want to know what that group is and if it would be too much to ask of an alumni association to spearhead. We will need Kelvin to communicate his needs/vision with our group to see where we can help out. Discussion was tabled until a further meeting.
Next Meeting – 11:45 a.m., Tuesday, June 10 at 11:45 at Broadway Grill