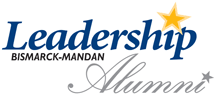 Home » About LBMAA » Meetings »
Meetings
Leadership Bismarck-Mandan Alumni Association (LBMAA)
Board Of Directors Meeting
Minutes
01/14/2014, 11:45
Reza's Pitch

Special Guest: Kelvin Hullet
Kelvin gave an update on the Chamber's Strategic Plan. One of the strategic areas that was identified is "Building Visionary Leadership." Kelvin outlined options for an Executive Leadership Program, and how that might tie-in to LBMAA in grooming future leaders, as well as efforts currently performed by the Young Professionals. The Executive Leadership Program might be a next step after LBM? It's good that both YP and LBM are under the Chamber umbrella so that all groups continue to work together to advance leadership opportunities in Bismarck-Mandan. No action was taken at this time.
Treasurer's Report
There was no treasurer's report at this meeting.

Committee Reports
Membership: No report.
Social Events/Training & Development: Jenn is coordinating the January program at Fraine Barracks regarding the ND Emergency Communication Center. Brad is coordinating the March program on the Bismarck-Mandan City Growth Management Plan.
Communications and Public Relations: No report.
Silent Auction/Fundraising: No report.

Old Business
LBM 25th anniversary: Kelvin offered to contact Doug Burgum in Fargo to be the 2014 graduation speaker as a special tribute to LBM's 25th anniversary. He'll let Susie know what develops.


New Business
Future program topics were discussed, including touring the new penitentiary, a panel on healthcare, a panel of publicly elected officials, a summer social in conjunction with the Chamber's summer socials, and in spring, 2015, a "how to" on running for public office


Next Meeting
Tuesday, Feb 11th at 11:45 at Reza's Pitch.