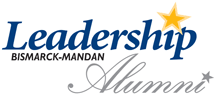 Home » About LBMAA » Meetings »
Meetings
Leadership Bismarck-Mandan Alumni Association (LBMAA)
Board Of Directors Meeting
Minutes
11/18/2013, Noon
Chamber of Commerce
Secretary's Report

Minutes approved (m/s Artlip/Pfaff)

Treasurer's Report
No report. The Chamber is still integrating their accounting program.
Committee Reports

Membership: To date we have 63 members plus 18 from new class. 39 are inactive from previous year. Susie will send out reminder with list of those unpaid attached.
Social Events/Training & Development: Melissa A will email Brad to see if event still stands. Then Susie will email out a "Save the date"
Communications and Public Relations: We reviewed Jennifer's intro email. Melissa A. will email Jennifer back approval with edits.
Silent Auction/Fundraising: Melissa shared a new idea of doing a business talent show this summer. The event may correlate with the Anniversary social? Next step is to put out feelers to see if any businesses would be interested, then develop fundraiser guidelines.
Old Business

LBM 25th anniversary: Paula is working on getting an event speaker. She proposed developing an event committee. Susie will email out for committee interest.
Scholarship: We spoke more about the details of how scholarships are given in relation to the Leadership selection committee. Determined we need selection committee's criteria before selecting our non-profit and small business candidates, to be sure they qualify.
National Leadership course: Melissa shard they now have a national conference every other year. The next one is in 2015. Gabe will be watching for more information.
Next Meeting

Monday, Dec. 9 at 11:45 a.m. at The Lodge