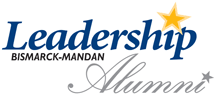 Home » About LBMAA » Meetings »
Meetings
Leadership Bismarck-Mandan Alumni Association (LBMAA)
Board Of Directors Meeting
Minutes
10/21/2013, Noon
The Chamber
Leadership Bismarck-Mandan Alumni Association (LBMAA)
Board of Director's Meeting Minutes

10/21/13
Chamber of Commerce
Election of officers: Secretary and Vice President

Paula Redmann volunteered to be the LBMAA secretary. (m/s Pfaff/Jackson)
Gabe Schell volunteered to be the LBMAA Vice President. (m/s Redmann/Artlip)
Treasurer's Report

Tim reported a balance of approximately $11,000 in our treasury.
Committee Reports

Membership: Susie will send out another dues reminder with a link to payment.
Social Events/Training & Development: Brad is coordinating the January program on the Bismarck-Mandan City Growth Management Plan.
Communications and Public Relations: Jennifer will lead this committee, and will look into the idea of a quarterly e-newsletter to members.
Silent Auction/Fundraising: Melissa will lead this committee, and the group decided not to do a silent auction at the Chamber's Holiday Mixer this year, but will look into options for a fundraiser at the spring mixer. Perhaps a Texas Holdem or Poker Run type of event. Time to refresh the committee and recruit new members.
Old Business

LBM 25th anniversary: In addition to a larger celebration at graduation, the group thought an additional event, with a speaker on the topic of leadership, would be a great way to celebrate 25 years. Paula will check with organizations who might be bringing in a speaker, with the possibility of sharing that speaker for LBMAA.
Gabe's Leadership Project: Gabe is working with the Chamber on trying to plug-in to the Employer's Round Table or the Local Issues committee to make in-roads.
New Business

LBMAA will sponsor a table LBM graduation. (m/s Schell/Jackson
Next Meeting

Monday, Nov. 18th at Noon at the Chamber.