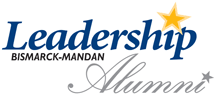 Home » About LBMAA » Meetings »
Meetings
Leadership Bismarck-Mandan Alumni Association (LBMAA)
Board Of Directors Meeting
Minutes
07/15/2013, noon
Chamber
Leadership Bismarck Mandan Alumni Assocation
Board of Directors Meeting
7/15/13 Minutes
Present: Tim Pfaff, Susie Kocourek, Robin Thorstenson, Brad Krogstad, Chad Bjornson
Secretary's Report – m/s (Krogstad/Pfaff)
Treasurer's Report – no report
Committee Reports – no reports
Events ­
Class Reunions at Chamber Events
Class of 2013 had the most members present with Class of 2008 making a strong showing.
Crime Lab Tour – to be held on Aug 14
Annual Meeting – Sept 18, need to secure nominations and set agenda
TJ Rooney will not be seeking a 2nd term.
LBM – have received 13 applications to date. Deadline is August 5.
Old Business
LBM Scholarships
Reviewed criteria for small business criteria. Will seek some additional feedback.
New Business
Silent Auction – need to identify a silent auction chair. Discussed several individuals who might be a fit.
Meeting adjourned. Next meeting is August 5 at the Chamber.