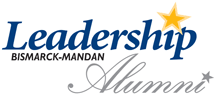 Home » About LBMAA » Meetings »
Meetings
Leadership Bismarck-Mandan Alumni Association (LBMAA)
Board Of Directors Meeting
Minutes
06/17/2013, Noon
Chamber
Leadership Bismarck Mandan Alumni Assocation
Board of Directors Meeting
6/17/13 Minutes
Present: Tim Pfaff, Susie Kocourek, Robin Thorstenson, Jennifer Jackson, Melissa Artlip, Brad Krogstad
Secretary's Report – m/s (Pfaff/Krogstad)
Treasurer's Report – m/s (Krogstad/Thorstenson)
Committee Reports
Membership – 87 paid members + 15 graduates
Events ­
Class Reunions at Chamber Events
Hold Class Reunion at July 12 Lunch on the Plaza. Class with most members attending will win free tickets for July 18 Dinner on the Plaza. Melissa will draft email communication.
Crime Lab Tour – hold in August. Make a grad and go lunch. Avoid 8/21 and 8/23
Old Business
Graduation Recap – went well.
Legislative Update - very successful. TJ has sent thank yous. Do again.
New Business
LBM Scholarships
Need to promote availability of nonprofit scholarship for LBM program. Recommended that it be added to the LBM application – check if need to be considered for scholarship.
Need to consider adding a small business scholarship. Jennifer will draft possible language for it.
Annual Meeting
Set for Sept 18
Will have 3 slots to fill.
Need to initiate nomination process – email to all members identifying interest.
Robin will prep nomination communications and election materials.
Meeting adjourned. Next meeting is July 8 at the Chamber.