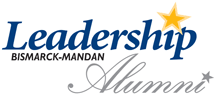 Home » About LBMAA » Meetings »
Meetings
Leadership Bismarck-Mandan Alumni Association (LBMAA)
Board Of Directors Meeting
Minutes
05/13/2013, noon
Chamber
Leadership Bismarck-Mandan Alumni Association (LBMAA)
Board Meeting
Minutes
May 13, 2013
Present: Robin Thorstenson, Tim Pfaff, Susie Kocourek, TJ Rooney, Brad Krogstad, Melissa Artlip, Jennifer Jackson, Joel Bird
Welcomed 2013 Class Representative Jennifer Jackson.
Secretary's Report: posted – approved as posted
Financial Report: no report
Committee Reports
Membership - 87 paid members plus 15 in current class
New Business
LEAD Task Force – request to become a standing program of LBMAA – (m/s Pfaff/Bird) – approved.

LEAD Task Force is the result of 2013 Class field project. LEAD will be a bridge between the need of key community organizations and LBM graduate seeking leadership experiences. LEAD will tie LBMAA members better to Local Issues Days, Downtowners and the Chamber's Major Employers Roundtable. LEAD will have a representative attending LBMAA board meetings to report progress.

Next LBMAA event – Legislator Update

Tuesday, May 21, lunch provided

TJ Rooney is coordinating

4 legislators have accepted - Diane Larson, Mike Nathe, Dwight Cook, Jason Dockter

LBM Graduation

May 15 at Seven Seas

Have stars for graduate and award for Distinguished Alum.

Susie will share script for edits. If Chad is unavailable, then Melissa will present the award.

Future LBMAA events review

The downtown walking tour needs to be put on hold

Will move the Crime Lab from October to July

Need to begin planning for Annual Meeting – September 18

Melissa will develop some language to promote Class Reunions at Chamber's Dinner on the Plaza and Friday lunches.
Meeting adjourned. Next meeting is June 3, 2013 at noon at the Chamber. Committee members are welcome to attend.