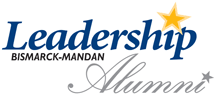 Home » About LBMAA » Meetings »
Meetings
Leadership Bismarck-Mandan Alumni Association (LBMAA)
Board Of Directors Meeting
Minutes
04/08/2013, noon
Chamber Office
Leadership Bismarck-Mandan Alumni Association (LBMAA)
Board Meeting
Minutes
April 8, 2013
Present: Robin Thorstenson, Tim Pfaff, Susie Kocourek, TJ Rooney, Brad Krogstad
Secretary's Report: posted
Financial Report: Balance as of 3/31/13 $11,816.97
Committee Reports
Membership - 87 paid members plus 15 in current class
Old Business
Crime & Community Lunch recap – 27 registered. 26 attended. Excellent response.
Distinguished Alumni Award Selection – nominations due April 16. Nominations will be emailed to board for review and selection by April 18.
New Business
LBM Graduation

May 15 at Seven Seas

Table of 8 – Who will be at the table?

Need to have stars for the graduates

Need to have Distinguished Alum award there to present

Tim Pfaff will order from Capital Trophy

Class of 2013 Board Representative

Susie will email seeking volunteers and conduct an online selection
Next LBMAA event – Legislator Update

Tuesday, May 21, lunch provided

TJ Rooney is coordinating

Seeking a moderator

Inviting only local legislators – want between 4 and 6
Meeting adjourned. Next meeting is May 13, 2013 at noon at the Chamber. Committee members are welcome to attend.