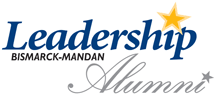 Home » About LBMAA » Meetings »
Meetings
Leadership Bismarck-Mandan Alumni Association (LBMAA)
Board Of Directors Meeting
Minutes
09/21/2011, 4pm
Bismarck Mandan Chamber of Commerce
Leadership Bismarck-Mandan Alumni Association (LBMAA)
Board Meeting
September 21, 2011, 4pm
Present: Tonya Schlaht, Robin Thorstenson, Greg Ellwein, Tim Pfaff, Joel Bird, Chad Bjornson, Lyn Weigel
Financial Report: submitted by Tim Pfaff – will be shared and approved at Annual Meeting on 9/21/11
·
$220 in scholarship monies
Old Business
·
ALP Teleconference discussion calls
– 1
st
one was cancelled due to tech issues. Tonya Schlaht will sit in on the next scheduled session on September 26, 2011, at noon.
·
Mastermind Group
– David Leingang, LBMAA member, will be launching this group on Oct 5 to explore The 21 Irrefutable Laws of Leadership. There are 2 slots remaining and the opportunity will be opened to the current leadership class. The Mastermind group will be meeting at NISC.
New Business
·
Mentorship Program – Partner with Young Professionals
– The YP has initiated a 6-month mentoring program with the Rotary. YP may be open to partnering with LBMAA as well.
·
LBMAA tax consequences
– we need to re-examine our tax status and determine if changes are necessary.
·
Table sponsorship at LBM graduation
– approved $250 to sponsor a table at the LBM graduation (m/s Bjornson/Pfaff).
Meeting adjourned for Annual Meeting at 4:30pm, September 21, 2011