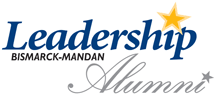 Home » About LBMAA » Meetings »
Meetings
Leadership Bismarck-Mandan Alumni Association (LBMAA)
Board Of Directors Meeting
Minutes
07/11/2011, noon
The Chamber Office
Leadership Bismarck-Mandan Alumni Association (LBMAA)
Board Meeting
July 11, noon
Present: Tanya Schlacht, Susie Kocourek, Robin Thorstenson, Greg Ellwein, Tim Pfaff, Joel Bird, Chad Bjornson

Secretary's Report: approved (m/s Bird/Schlacht)
Financial Report: submitted by Tim Pfaff
• Checking Account Balance (6/30/11) = $1616.63; Savings Account Balance (6/30/11) = $6542.66
• Nonprofit scholarship for LBM is again being funded by Gate City Bank. An email will be sent to United Way agencies to encourage application for LBM.

Reports
Membership - Class of 2009 is getting together in August
Social Events & Training & Development
Considering hosting a "hot topic" session for fall
Annual Meeting is 9/21/11
Communications
No report
Silent Auction
Greg Ellwein will be chairing the silent auction this year. A solicitation for items will be in the September newsletter.

Old Business
• Going Green event was successful. 25 in attendance. $130 in donation for the nonprofit scholarship for LBM.
• LBM Refresh Project – the new application is online; new promotional materials are out; will have online evaluations of Issue Days; the Military has been added to an Issue Day; Field Projects has a new model; graduation will be moved to May.
Possible Field Projects will be brainstormed throughout the LBM year. Projects will be selected at the closing retreat and completed by graduation in May. Projects will be more directly related to issues explored during the year and will be group-based.
• Annual Meeting is September 21 after Orientation Day for LBM 2012. The meeting will be at the Chamber office, beginning at 4:30pm, with a social following. During the meeting will be election of officers. An announcement should go out by August 10.
• Membership Dues statements will need to go out soon with an October 1 deadline. We will send with the Annual Meeting announcement.
Next meeting – August 8, 2011 at noon, The Chamber - A slate of officers will need to be created for presentation at the Annual Meeting.