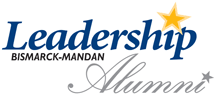 Home » About LBMAA » Meetings »
Meetings
Leadership Bismarck-Mandan Alumni Association (LBMAA)
Board Of Directors Meeting
Minutes
06/13/2011, 8:00am
Bismarck Mandan Chamber Office
Leadership Bismarck-Mandan Alumni Association (LBMAA)
Board Meeting
June 13, 2011 - 8am
Present: Robin Thorstenson, Susie Kocourek, Tim Pfaff, Chad Bjornson, Greg Ellwein, TJ Rooney, Treva Beard (by phone), and Tonya Schlaht
Secretary's Report – minutes posted on website (m/s Schlaht; Bjornson)
Treasurer's Report – presented by Treasurer Pfaff;
Checking Balance as of 6/1/11 $1616.63
Savings Balance as of 6/1/11 $6410.84

Membership –Class of 2009 will be holding a breakfast reunion this month.
Going Green – Jeff Hintz of the City of Bismarck will be speaking at the next Education event on June 15. Twenty are registered. Lunch is paid for through the budget.
A panel will be scheduled for a fall event.
LBM Refresh Project – completed. Updated LBM program will roll out this year. Applications will be online only. Applications will be available as of June 15. Up to 20 participants will be accepted. We have 10 so far who have requested an application.
Gate City Bank will sponsor again a nonprofit if one is selected.
2011 Representative to LBMAA BOD - TJ Rooney joined the BOD as the class rep. He will be inducted officially in September.
Annual Meeting – scheduled for Wednesday, September 21. Planning needs to begin soon.
Next meeting is noon, Monday, July 11 at the Chamber office.