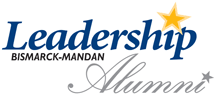 Home » About LBMAA » Meetings »
Meetings
Leadership Bismarck-Mandan Alumni Association (LBMAA)
Board Of Directors Meeting
Minutes
05/09/2011, Noon
The Chamber
Leadership Bismarck-Mandan Alumni Association (LBMAA)
Board Meeting
May 9, 2011
noon-1p.m.
Present:
Tonya Schlaht
, Treva Beard, Greg Ellwein, Tim Pfaff, Marnie Piehl, Robin Thorstenson
Correspondence:
Secretary's Report: approved (m/s Schlaht/Pfaff)
Treasurer's Report: presented by Tim Pfaff; approved (m/sThorstensen/Schlaht)
·
Checking Account Balance (5/911) = $1616.63
·
Savings Account Balance (5/9/11) = $6410.05
Membership – Committee members not present, discussion held.
No new members;82 members paid up; would like to research when the dues drop off, engagement wanes – believe it to be years 6/7.
Discussion about getting class reps from past 5-6 years to reunite and LBMAA board will pitch to them.
All class reunion vs. annual meeting
Social Events, Tanya Schlaht
IDEA Center – good event, but 10 no-shows
Training & Development, Tanya Schlaht
Communications & Public Relations – Wes Engbrecht, Marnie Piehl
Silent Auction/Fundraising
Graduation &Distinguished Alumni Recipient
New Business
LBM Changes/Refresh, Tanya Schlaht
Redoing application, directing people online
Not a lot of changes, more of a reassurance and refresh
Mission refined: Developing an understanding of the business and public community for potential leaders
Armed Forces addition
Training for Issue Day chairs
Better management of speaker overlap
Encouraging Issue Day chairs to contact chamber committees as first part of planning
2-4 meetings per year for chairs (August & January)
Will require 2 chairs:
One chair = in the industry; another outside of the industry
4 year positions
August orientation for issue day chairs
Templates being developed for the day
Online feedback rather than paper
Field projects will continue (70% of those surveyed want them)
Project application will be revamped
LBM dates extended with last few weeks dedicated to field projects
2011 representative to LBMAA Board – discussed; Susie will email class in June asking for interested party.
Recognition
Incorporate into graduation activities
Lifetime of Service award at Annual Meeting
Work with Dot Frank, Bonnie and Marilyn Johnson
LBM Scholarship
Chamber Foundation will be a part of contribution to diversify classes helping non-profits and small businesses
Will help increase LBMAA connection to Chamber too
Pass the hat at Chamber events
Next meeting – Monday, June 13 at noon, The Chamber
Meeting adjourned at 12:44p.m.