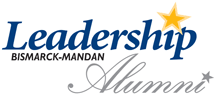 Home » About LBMAA » Meetings »
Meetings
Leadership Bismarck-Mandan Alumni Association (LBMAA)
Board Of Directors Meeting
Minutes
04/11/2011, noon
The Chamber
Leadership Bismarck-Mandan Alumni Association (LBMAA)
April 11, 2011 - 12:00 pm


Present:
Robin Thorstenson, Susie Kocourek, Tim Pfaff, Joel Bird
**Due to lack of quorum, no business was conducted. Information was shared only.
Secretary's Report – minutes posted on website
Treasurer's Report – presented by Treasurer Pfaff;
Checking Balance as of 3/31/11 $1629,91
Savings Balance as of 3/11/11 $6409.23
IDEA CENTER EVENT
– excellent event; had 10 no-shows which diminished attendance considerably; Susie Kocourek will send a thank you.
Membership
– no changes in membership, so we need to survey those not renewing. Also, need to push for a class ambassador who will organize a class reunion. Susie Kocourek will send an email seeking ambassadors.
Going Green
– next LBMAA event is "Going Green" with Jeff Hintz of the City of Bismarck.
LBM Graduation
– 115 attended the luncheon.
LBM Refresh Project
– Robin Thorstenson provided a short update on recommendations regarding the LBM Refresh Project. LBMAA needs to be aware that there is strong support for creating a scholarship for small businesses and nonprofits through the Chamber Foundation as a way to increase participant diversity. LBMAA is welcome to roll its scholarship efforts in with the Chamber Foundation's plan.
Spring Mixer
– is Thursday, April 28 at the Ramkota.