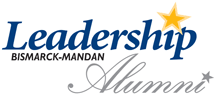 Home » About LBMAA » Meetings »
Meetings
Leadership Bismarck-Mandan Alumni Association (LBMAA)
Board Of Directors Meeting
Minutes
02/14/2011, 12:00 pm
Chamber
Leadership Bismarck-Mandan Alumni Association (LBMAA)
Board Meeting
February 14, 2011, noon-1 p.m.
Present: Treva Beard, Greg Ellwein, Susie Kocourek, Joel Bird, Tim Pfaff, Chad Bjornson, Marnie Piehl
Correspondence:
Secretary's Report: approved (m/s Bjornson/Pfaff)
Financial Report: presented by Tim Pfaff; approved (m/s Bjornson/Piehl)
· Checking Account Balance (1/01/11) = $1629.91
· Savings Account Balance (1/01/11) = $6407.67
Committee Reports
Membership – Joel Bird
No new members
Idea: Revamp the application process to encourage/require more participation from classes moving forward. Three year commitment becomes the understood expectation. Roll new graduates into board, establish responsibilities moving forward.
Social Events – See T&D below
Training & Development – Paula Redmann, Tonya Schlaht, Tami Emter
Survey sent out to gage interest in what social/training/development events to have. Top winners were:
· Innovation – IDEA Center as host
§ Trying to set up for Late March
§ IDEA Center to speak on their exempt purpose with social before and after
§ Likely a charge to attend ($5?)
· Going Green – Bismarck Public Works/Jeff Hienz as host
§ Trying to set up for June
§ Jeff to speak on recycling – where we were, where we are, where we could go
§ Lunch gathering
§ Likely a charge to attend ($5?)
· Local Issues Day – Chamber to possibly host
§ Panel of local officials/board members etc to speak/field questions on hot topics
§ Trying to set up for late August or September
§ Likely an evening social prior to panel
§ Likely a charge to attend ($5?)
· A few things Tonya will take care of:
o Announcing the IDEA Center social at the LBM Graduation in March
o Putting announcements on website (who currently does this?)
o Have Susie send out email blasts on the IDEA Center Social
· Other ideas we had – tour of water treatment plant, Heritage Center tour, Fort Lincoln outing, Sunrise Elementary tour
· Ideas/Suggestions from the board?
Communications & Public Relations – Wes Engbrecht, Marnie Piehl, Nancy Willis
Still need to review brochure, revise.
Old Business
Class reunions at Chamber – Encourage classes to reunite; do a reunion month. Communicate via Chamber newsletter, news release, etc. All class reunion?
Susie will send out an appeal to representatives from each class to organize reunions.
Graduation – March 30 at Seven Seas; 11:45 reservation; noon event
Distinguished Alumni nominations – Need to establish selection committee.
· One nomination in. Will send to Greg.
Next meeting – Monday, March 14 at , Chamber office
Meeting adjourned at 12:42 p.m.