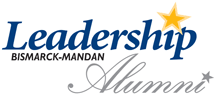 Home » About LBMAA » Meetings »
Meetings
Leadership Bismarck-Mandan Alumni Association (LBMAA)
Board Of Directors Meeting
Minutes
01/10/2011, noon
Chamber Office
Leadership Bismarck-Mandan Alumni Association (LBMAA)
January 10, 2011 - 12:00 pm


Present:
Treva Beard, Robin Thorstenson, Greg Ellwein, Susie Kocourek, Tim Pfaff,
Brad Krogstad, Joel Bird, Chad Bjornson, Alicia Berger, Wes Engbrecht, Paula Redmann
Secretary's Report – minutes posted on website; approved (m/s Krogstad/Bird)
Treasurer's Report – presented by Treasurer Pfaff; approved (m/s Thorstenson/Pfaff)
Checking Balance as of 12/31/10 $1536.55
Savings Balance as of 12/31/10 $6406.69
Silent Auction Recap- presented by Treva Beard
·
Held Dec 14 at Chamber Holiday Mixer
·
All thank yous have been sent
·
Larger crowd, good auction items, good organization, good booth placement
·
Revenue lower than expected ($1500 from the auction; $160 from 50/50 raffle)
·
Discussed possible changes to auction for increased effectiveness
o
Hold at spring mixer instead
o
Automatically issue a bid # to everyone who attends
o
Hand the auction item list to everyone who attends
Scholarship Fund – fund has not reached $100 yet
Membership – Chad Bjornson, Joel Bird
·
68 paid members plus 15 current class members
·
Need to identify a class ambassador
·
Treasurer will send membership team a spreadsheet of members and their dues history
Social Events –Brad Krogstad, Alicia Berger
·
Planning has been challenging; need to rethink events
·
Will revisit with Training and Development team about a joint event
Training & Development – Paula Redmann
·
Will review interest survey from last year
·
Event related to the legislature?
Communications & Public Relations – no action taken yet
Meeting Adjourned. Next meeting is Monday, Feb 14 at noon at the Chamber Office.