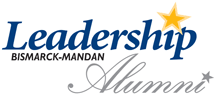 Home » About LBMAA » Meetings »
Meetings
Leadership Bismarck-Mandan Alumni Association (LBMAA)
Board Of Directors Meeting
Minutes
12/13/2010, 12:00
The Chamber
Present: Treva Beard, Greg Ellwein, Susie Kocourek, Robin Thorstenson, Tonya Schlaht, Tim Pfaff, Joel Bird, Marnie Piehl
Correspondence: Tonya reviewing
Secretary's Report: approved (m/s Thorstenson/Pfaff)
Financial Report:
presented by Tim Pfaff; approved
(m/s Thorstenson/Bird)
·
Correction made to statement; membership dues ($70) moved from savings to checking
·
66 paid members +15 new (current class) = 82 total
·
Checking Account Balance (12/01/10) = $568.62
·
Savings Account Balance (12/01/10) = $6404.48
·
Tonya added as authorized signator. Now Greg, Tim and Tonya are authorized.
Training & Development – Paula Redmann, Tonya Schlaht, Tami Emter
No report; have not yet met
Communications & Public Relations – Wes Engebrecht, Marnie Piehl, Nancy Willis
Need to review brochure, revise.
Silent Auction Update – Treva Beard
A few more items being collected; permit in place; have raffle tickets
Silent auction average = $2,000
Silent auction ends at 7 p.m.
Raffle items will be included as handout at registration.
Photo copies of gift certificates will be displayed.
Items strong this year – more tangible items and baskets, fewer gift certificates
Will be putting minimum bids in place.
Some of the items will have to be bundled into theme packages to enhance the bidding opportunity.
50/50 raffle tickets are $1 each – raffle ticket sellers need change also and money bags
½ of what we collect goes to us, ½ to winner
Occasionally remind MC to announce raffle
Stop selling at 6:30, draw at 6:35, will write on winner's board. If not claimed within 15 minutes will redraw. Three chances to have a claimant, then will stop and take all funds.
Scholarship Fund Update – No report
Shelle Michaels from Rasmussen was dismissed from Leadership class due to lack of participation. Need to update website.
LBMA Refresh Project: The Chamber Board of Directors worked on vision and mission at board retreat. Susie will work on gathering team to review and move forward. The Leadership Refresh teams will review and modify the program's marketing, Issue Days, orientation and closing celebration, field projects, and applicant procedures.
Next meeting – Monday, January 10, 2010, at noon, Chamber office
Meeting adjourned at 12:37 p.m.