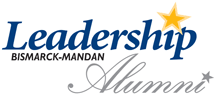 Home » About LBMAA » Meetings »
Meetings
Leadership Bismarck-Mandan Alumni Association (LBMAA)
Board Of Directors Meeting
Minutes
11/08/2010, noon
Chamber of Commerce
Leadership Bismarck-Mandan Alumni Association (LBMAA)
Board Meeting
November 8, 2010, noon to 1pm
Present: Treva Beard, Susie Kocourek, Robin Thorstenson, Chad Bjornson, Tonya Schlaht, Tim Pfaff
Secretary's Report: approved (m/s Bjornson/Pfaff)
Financial Report: presented by Tim Pfaff; approved (m/s Thorstenson/Bjornson)
• Checking Account Balance (10/29/10) = $984.62; Savings Account Balance (10/29/10) = $6473.23
• Membership is at 76, which includes the Class of 2011.
Committee Reports
Membership – Joel Bird, Greg, Chad Bjornson
Tim Pfaff provided a list of members from previous year that had not renewed as yet. Chad Bjornson will email those with a reminder.
Social Events – Brad Krogstad, Alicia Berger
No report
Training & Development – Paula Redmann, Tonya Schlaht, Tami Emter
No report
Communications & Public Relations – Wes Engebrecht, Marnie Piehl, Nancy Willis
No report
Discussion was held about how to connect committee activity to board work. Decision was made to invite all committee members to the January board meeting to discuss chairs, reporting, and continuity with board decisions.

Old Business:
Silent Auction Update – Treva Beard
List of potential auction items donors was reviewed. Deadline to secure auction items is November 30.
Some of the items will have to be bundled into theme packages to enhance the bidding opportunity.
Scholarship Fund Update – currently at $125; will include donation option on events
registration pages.


New Business:
Tonya Schlaht was authorized to conduct financial transactions on behalf of LBMAA, including serving as signatory on checks. (approved - m/s Thorstenson/Bjornson)
Leadership Refresh Project – Susie Kocourek reviewed the initial plan for refreshing the LBM program. The Chamber Board of Directors will work with Kelvin Hullett to revise the vision and mission of LBM. Based upon the mission and vision, the Leadership Refresh teams will review and modify the program's marketing, Issue Days, orientation and closing celebration, field projects, and applicant procedures.

Next meeting – Monday, December 13, 2010, at noon, Chamber office Meeting
Meeting adjourned at 12:50pm.