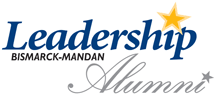 Home » About LBMAA » Meetings »
Meetings
Leadership Bismarck-Mandan Alumni Association (LBMAA)
Board Of Directors Meeting
Minutes
10/11/2010, noon
The Chamber Office
Leadership Bismarck-Mandan Alumni Association (LBMAA)
10/11/2010, 12:00 pm


Present:
Treva Beard, Robin Thorstenson, Greg Ellwein, Tonya Schlaht, Susie Kocourek, Marnie Piehl, Tim Pfaff,
Secretary's Report – minutes posted on website
Treasurer's Report – presented by Susie Kocourek on behalf of outgoing treasurer Emter. Approved. (m/s Schlat/Bird).
Committee Reports – Focused on makeup of the committee for the coming year.
Membership – Chad Bjornson, Joel Bird
Social Events – Katie Bommersbach, Brad Krogstad, Alicia Berger
Training & Development – Paula Redmann, Treva Beard, Tonya Schlat
Communications & Public Relations – Wes Engbrecht, Marnie Piehl
Silent Auction/Fundraising – Treva Beard
It was suggested that members be provided the committee descriptions and encouraged to join a committee.
Silent Auction – Need to extend the deadline for securing items to Oct 31
Downtowner's Pub Crawl – tabling until Spring
International Dinner – tabled and waiting for one of the committees to pick up.
Bismarck Public Schools Career Academy tour – low turnout
Membership Renewals – will be resent.
Scholarship Fund – not many donations to the newly established fund. May be due to employers paying the membership dues, rather than the member. Gate City has committed to funding one (1) scholarship each year until the fund can sustain itself. An enhanced explanation will be included with outgoing renewal or event messages.
Audit Procedures – Tonya Schlat met with Tami Emter and conducted several traces back to source documents. An audit report will be provided at the next meeting.
Election of Officers – President Elect and Treasurer were elected.
President Elect Tonya Schlaht
Secretary Robin Thorstenson/Robin Thorstenson
The board passed a resolution that as the new treasurer, Tim Pfaff, should be authorized to sign checks and conduct financial transactions on behalf of LBMAA.
LBMAA Brochure – Marnie Piehl will review the brochure and offer recommendations
Project Refresh – six members have responded to the call for the Project Refresh.
Next meeting is Monday, November 1, at 4pm, at the Blarney Stone